Mitel MiVoice Office 400

MiVoice Office 400 is a flexible, versatile communications solution specifically designed to meet the tough demands of small and medium sized businesses.
At the heart of every MiVoice Office 400 solution is the communications server. It forms the basis of all communications, whether virtualized or in a conventional hardware format. The IP-based MiVoice Office 400 communications servers offer comprehensive telephony features and a wide range of applications and industry solutions as "all-in-one" systems.
Hardware-based communications servers perform the following functions:
• Independent, stand-alone communications server for communications solutions with both IP and non-IP endpoints
• Gateway to the virtual appliance for non-IP endpoints
• Port expansion for hardware-based communications servers
• SBA (survivable branch appliance) for a Mitel 400 Advanced Intelligent Network (Mitel AIN)
• Application and port gateway for Lync/Skype for Business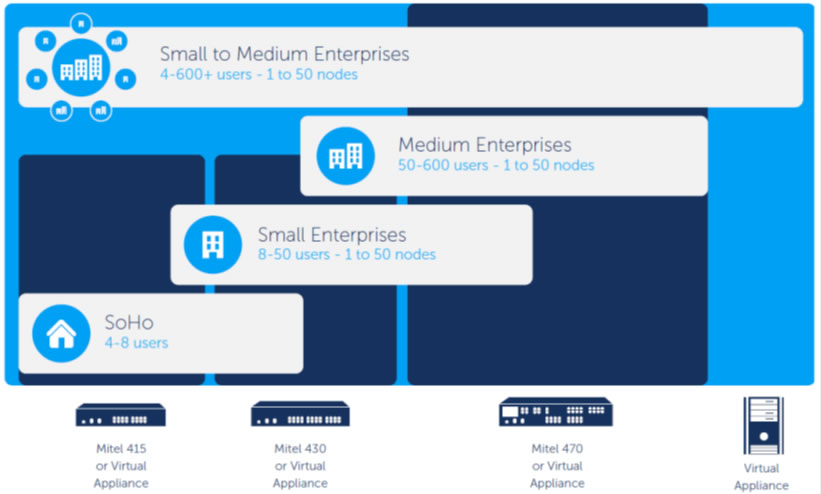 Mitel MiVoice MX- ONE


MiVoice MX-ONE provides powerful communication and collaboration anywhere, over any medium, on the end-user's preferred device.
MX-ONE is a complete SIP-based communications system with the underlying architecture for unifying services like instant messaging, presence, voice, video conferencing and collaboration. The MX-ONE is built upon an open design, allowing for flexible and future-proof deployment. The same wide range of services and features are available from on-premise or in the cloud deployments of the MX-ONE solution.
Highlights
• SIP-based multimedia platform
• Scalable from 100 to 500,000 users
• Flexible licensing: A la carte or feature-based
• On-premise or cloud-based deployment options
• 64-bit architecture with native support for IPv6
• Complete range of fixed and mobile end-user devices
• Single point of entry for system management
Mitel 6873 SIP Phone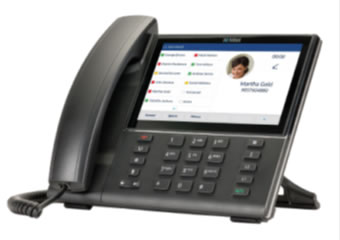 Powerful, Executive SIP Desktop Phone with SIP open standards support for cloud and on-premises environments
The Mitel 6873 SIP Phone is designed for power users who demand a lot from their phones.
The 6873 offers executives a large 7" touch screen display, support for today's, and tomorrow's, high speed networks through dual Gigabit Ethernet ports with embedded Bluetooth and a powered USB port for headsets. Providing remarkable HD wideband audio, an enhanced speakerphone and advanced audio processing, the Mitel 6873 SIP Phone will deliver crystal clear hands free conversations.
Key Features
• Support for up to 24 lines
• 7" 800x480 pixel Color LCD Touch Display
• HD wideband audio
• Enhanced wideband Speakerphone
• Powered USB port
• Embedded Bluetooth 4.0 Wireless
• PoE Class 3
Mitel MiVoice Conference Phone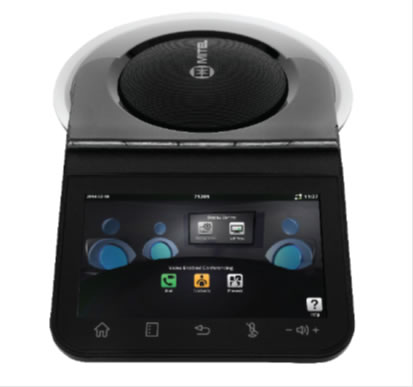 Unleash your business potential with enhanced audio conferencing Mitel MiVoice™ Conference Phone is the next evolution in audio conferencing phones. Through its innovative design, your business will not only experience high definition audio quality and superior far end voice clarity, but is provided with an easy way to share collaboration sessions with others in the room — all via a single, compact solution. MiVoice Conference Phone is perfect for businesses of any size; it easily addresses the needs of a wide variety of meeting spaces - from the personal office to the Executive Boardroom.
Key Features
• Exceptional audio conference experience
• One button access to collaboration services
• Drive meetings and presentations using any device
ZYCOO CooVox-U100 IP Phone System

CooVox-U100 V2 is a next-generation feature-rich Asterisk PBX dedicated for medium and large enterprises. Enhanced hardware platform carries Asterisk 13 to bring you excellent unified communication experience with innovative VoIP functionalities.
CooVox-U100 V2 is a heavy loading but cost-effective IP phone system. It's ideal for those enterprises which have heavy telephone traffic as it supports up to 500 extensions, 100 simultaneous calls, 80 simultaneous conference attendees, up to 7500 hours call recording in WAV format and if in GSM format it can store up to 75000 hours recording.
Highlights & Features
- Modular Design.
- Fax to email and one click to send fax.
- USB port for extended data storage.
- SIP over IPv6.
- LDAP phonebook.
- WebRTC enables your browsers and mobile applications with Real-Time Communications (RTC) capabilities.
ZYCOO IP Phone CooFone-D60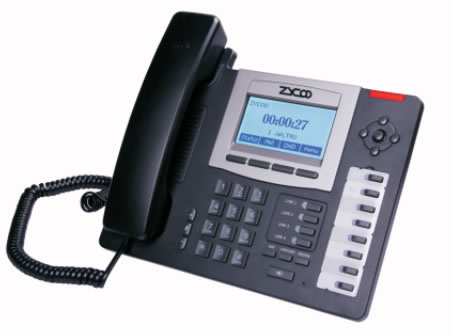 CooFone-D60 is advanced and feature-rich IP Phone for office business. Programmable Softkeys and function keys allow you to define more features easily and enhance your productivity. With HD codec G722, and echo cancellation, you can enjoy the wonderful voice quality in the constant communication environment.
The reasonable price with default PoE supported, as well as expandable key module (optional), removable auto provisioning and software upgrading, this IP Phone will provide you the valuable working experience.
-High Cost-effective IP Phone with 4 SIP lines and 6 SIP accounts maximally
-HD voice: HD Codec (G.722) , HD Speaker, HD handset
-4 Softkeys and 8 DSS keys are programmable
-PoE default
Vidyo VidyoCloud



Your workforce is mobile, dispersed, and often at home. Employees need efficient and effective interpersonal collaboration, and are more engaged over video. They expect exceptional quality, instant connectivity, and access from wherever they work.
Your IT organization may look to the cloud to rapidly deploy video collaboration. But until now, you had to accept the status quo of mediocre quality as the trade-off for the flexibility, scale, and affordability that cloud delivery provides.
VidyoCloud Benefits

Continuous Software Updates
Connect to Anyone, Anywhere
Global backbone to reach participants wherever they are
Deploy collaboration for your enterprise instantly
Buy only what you need, grow anytime
Conserve IT Resources
Flexible pricing to fit your needs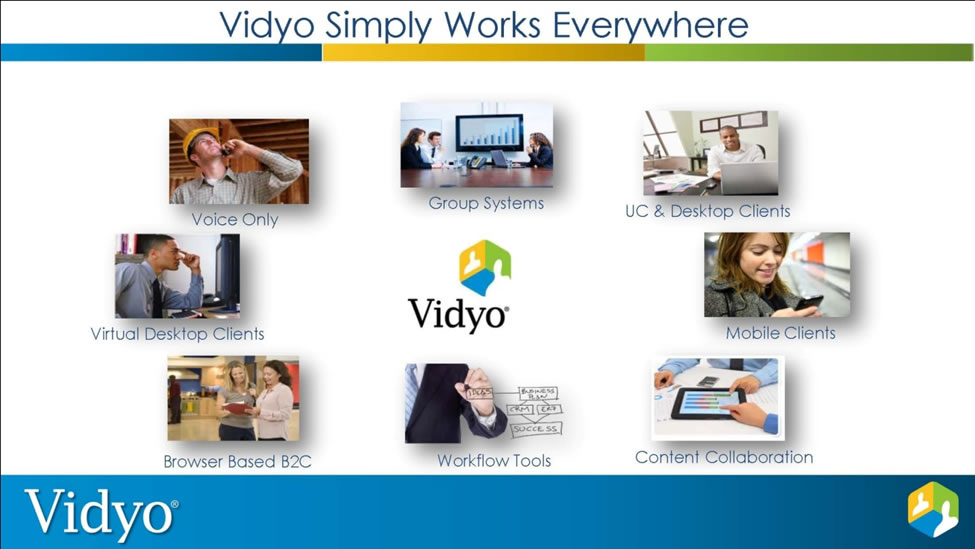 IT Benefits
• Easily deploy, scale and support
• Reduce capital costs to support endpoint growth in small rooms, desktops, and mobile devices
• Meet enterprise security standards with TLS, SRTP, H.235, and AES 128-bit encryption
• Support interoperability with third-party H.323 and SIP based systems , and Microsoft Skype for Business
• Enable external participants to participate in video meetings
• Count on superior performance over the public Internet and wireless with patented dynamic adaptation technology
End-User Benefits
• Click-to-connect simplicity plus built-in calendaring support
• Experience up to 4K quality video and shared content
• Connect from virtually any desktop or mobile device
• Dial-in support for voice only callers
• Host multiparty conferences or call participants directly for ad hoc sessions
• Pop out content sharing into a separate window or display
• Allow Microsoft Skype for Business users to easily join VidyoCloud meetings, and support bi-directional content sharing



2N VoiceBlue Next VoIP - GSM gateway

The 2N® VoiceBlue Next VoIP gateway will bring you a significant reduction in the cost of calls to mobile networks, while being compatible with a wide range of IP PBXs. Thanks to its web-based interface you will configure it easily in a few moments. You will also appreciate its innovative features, such as a powerful savings algorithm, the CallBack service or the 2N® Mobility Extension.
2N® VoiceBlue Next offers you many extra services, such as 2N® Mobility Extension. This service gives your mobile phone all the features of your office desk phone, including the ability to transfer a call to a colleague in your company.
Features:
• Least Cost Routing (LCR) – time profiles, free minutes counting
• 2N® Mobility Extension and Callback service
• PoE (Power over Ethernet)
• SMS sending/receiving over web interface,
Email or SMPP (Short Message Peer-to-peer)
• Web interface
• 2N® SIM Star support (virtual SIM)
Benefits:
• Significant cost reduction
• Elimination of roaming fees
• Greater employee mobility
• Easy set up via web interface
• 19" Rack mountable